*Sutras are a guiding text outlining the practice of Yoga. They are originally verbal but were eventually written in Sanskrit. Over the years there have been many translations and even more interpretations of those translations. There is no one correct way to practice and experience yoga but there are guidelines, 'path' signs, and clues. When studying the texts (also ourselves, life, and others) we have to do our best to keep in mind the bias of the individual interpreting, the cultural biases and stories of the time, and our own biases and stories. The best thing we can do is to contemplate the sutras, not settling on something solid but ever continuing to grow and deepening our understanding. Yoga practice isn't a static thing.
Sutra 1.1 Atha Yoganushasanam
Atha means now. The first word now may imply that there was something that came before, an experience that has 'set the stage'. It may be (but not limited to) instruction on the practice, spontaneous awareness, or deep desire/seeking.
To me this is a really valuable insight to contemplate, especially for beginners. It highlights that the posture isn't the practice but a tool, that many of the tools of the practice aren't Yoga.
The other neat thing about the word Atha being in the first sutra is that it also points to presence, as in this moment, now. That's the only place Yoga can exist is now, in this moment.
Yoga is so much more than the asana (postures), I'd argue that the asana are just one of a multitude of tools that may be in a yoga practice. There are days when my practice doesn't have the postures in it and it is to this that I am most drawn to, these are often the most deeply reconnecting and satisfying practices for me.
Yoga was always a way for me to understand what was going on within and so I am drawn to helping others explore their inner nature through their connection with Nature.
I created this course for three reasons:
1. So much of what I see in class are yoga concepts rattling around in the head instead of bubbling up from within as a result of deep insight. This course is about taking your yoga practice from a place of mental "forcing" to one of deep knowing (power). The ability to deeply hear what's true for oneself is an integral part of a yoga practice. Taking the practice from the ideas of the mind into something that is visceral.
2. It's so easy to get lost in the human ways of doing things, our story and ideologies, and even in Yoga those veils are present. Yoga at it's core is about awareness of those patterns of thinking and eventually having the skills to dissolve and transform them so we can be ever more present. When we practice WITH (not in) Nature we have something greater than ourselves to help us dissolve those patterns, stories and veils so that the experience of Yoga can arise.
3. So many of us have forgotten what it's like to be able to just be, with ourselves, with Nature, with others. This course sets the foundations of courtesy; although we focus mostly on our connection with Nature, the skills are amazingly poignant when applied to ourselves, others, our (yoga) practices, and life. Yoga requires that we be able to be with what's real, not what we want or think to be real, but to be willing to see and acknowledge the whole of life.
*side note: there's yoga, then there's Yoga. Yoga is the experience that innately arises when the patterns of thinking dissolve (however briefly), whereas yoga is the practice(s) that help us become aware and then dissolve/transform.
About the 8-Week Conversations with Nature eCourse:
In this 8 week course you will:
Learn the basics of how to communicate with Nature, which, like any fulfilling conversation starts with being able to listen from a place of presence.
Work through some of the stories and patterns that stop you from being able to 'hear' Nature (and our inner nature),
Explore how to interact in a healthy way with Nature, a yoga practice, and your Self,
Learn to be ever more present with your Self and nature so that the conversation can continue to support you in your practice, life and other relationships.
The course will be interactive throughout the week, with a main contemplation connection-based lesson and an email mid-week offering more for those that want to take it even deeper.
Journaling and sharing are an integral part of retraining our ways of thinking to be more nature based, so a journaling practice will also be a part of your transformational process.
We will set the foundations for a deep connected conversation between Nature and yourself, and in the process allow your practice to evolve in a naturally connected way.
Being able to reconnect with Nature is vital, not only to one's health, but to the health of the planet we are apart of.
So if you are keen to increase your ability to naturally feel connected, and deeply experience yourself and Yoga in the moment, then you are invited to be part of the beta test of this 8-week deep connection journey.
Your Instructor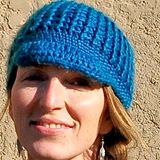 About me
Hello! My name is Natalie Forrest; I couldn't have chosen a better last name for myself. It perfectly expresses the importance of nature in my yogic practice (and my life)!
I began learning yoga in the late 90's, and immediately felt something in the practice click with me. I was searching for stability and a deeper understanding of myself, and I found both in yoga. I loved the physical aspects of it, but what really spoke to me was the insight it offered, the contemplation, and the techniques to focus my mind and be more present, the ability to access breath when I needed to. In short, I loved the entirety of yoga, not just the physical aspects of it that had become so popular. Most importantly, the practice gave me a language for something that I was already feeling. I didn't fit myself into Yoga, I was already a fit.
I began teaching yoga in the early 2000's because there was a need in our community (I was covering my teacher's classes) and just kept right on going (with my teacher's consent, of course).
At about the same time, I began my foray into Applied Eco-Psychology, and after a decade of study, in 2016 I earned my Doctorate of Philosophy in Applied Eco-Psychology from Akamai University. I have been asked to develop a certification and run the NatureConnectYoga program – and that's what I am creating now.
Over the years, I have realized that my definition, understanding and insight into Yoga is very different than what is most commonly thought of – the physical practice is merely one leaf in a tree full of ways to practice yoga. My favourite and most valuable aspects of the practice are not the postures (although I do love how physical movement can filter, settled and restructure my mental and emotional states). And although I see this shift changing in Yoga studios, to me, the practice must be freed from the box and back into the wilds of intimate in-the-moment presence that includes honouring our senses and the information they share with us (not something to overcome or withdraw from).
Blending Applied Eco-Psychology with my personal yoga practice as well as in my teaching was a wonderful fit, and it only made sense to me to offer a more formal exploration of the relationship between the self, yoga practice and nature: welcome to Nature Connect!


Course Curriculum
Introduction
Available in days
days after you enroll
Nature as Guru
Available in days
days after you enroll
Senses: Expanding from 5
Available in days
days after you enroll
Frequently Asked Questions
When does the course start and finish?
The course starts when we have 3-5 people who are keen to get going. The course duration is 8 weeks (ish), depending on what the group decides. You can choose to put your name on the Preregistration list and you will be contacted when there are enough people to run a class. Alternatively, you can get a group together and we can start anytime.
How long do I have access to the course?
For the duration of the class.
What if I am unhappy with the course?
We would never want you to be unhappy! If you are unsatisfied with your purchase, contact us in the first week and we will give you a full refund. We do urge you to take a moment and make sure it's a fit before you register. It's easy to get carried away by the energy of something before taking a moment to truly check in and see the reality of our schedule. So I urge you to take a few breaths and feel deeper into your schedule, the commitment needed for the course, and your current space. If after a few breaths this still feels like a fit then I look forward to working with you. If not, then perhaps the timing will be better later, or if you truly want to do this course contact me and we can work something else out.
I have other questions.
If after reading the curriculum, faqs, and learn more, you still have questions please contact me at littlemaetree (at) yahoo (dot) ca.